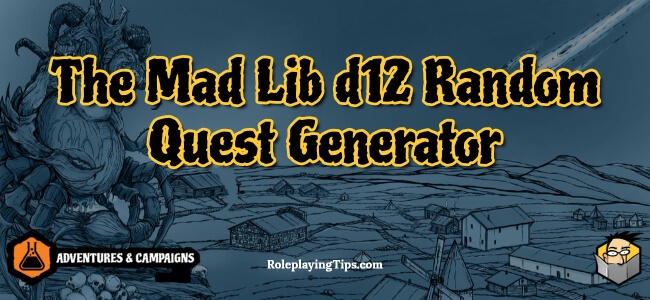 The Mad Lib d12 Random Quest Generator
Roleplaying Tips Newsletter #0849
---
A bit of fun inspiration for your campaign today. RPT GM Tony shares a random quest generator in Mad Libs format.
What I like most about his plot generator is it creates a named and enumerated quest purpose.
You could use this template to create legends, world wonders, artefacts, Spikes of Danger, and other nifty hooks of curiosity for your campaigns.

The Mad Lib d12 Random Quest Generator
Hi Johnn,
I loved the Mad Lib 5 Room Dungeon Idea Generator you created, and I love random tables, and I love d12 lists. So put them all together in a d12 random quest Mad Lib.
Here's the template:
A (*RACE*) (*TITLE*) seeks heroes to (*ACTION*) a (*NOUN*) called "The (*ADJECTIVE*) (*SAME NOUN*) of (*NUMBER*) (*CONDITIONS*)."
Here are a couple examples of what the template produces using my tables below.
1. A DWARF PRINCE seeks heroes to FIND a HORSE called "The DISHONORABLE HORSE of TWELVE EXHAUSTIONS."
2. An ORC BARON seeks heroes to HEAL a HERMIT called "The ANDROGYNOUS HERMIT of FIVE STUNNINGS."
3. A FAERIE MARQUESS seeks heroes to CRAFT a SHIELD called "The FROSTY SHIELD of NINE RESTRAINTS."
And now for the tables:
Races
Human
Elf
Dwarf
Halfling
Orc
Drow
Giant
Faerie
Gnome
Goblin
Merfolk
Dragon
Titles
Roll first for gender: odd= male, even= female
Master/Mistress
Matron/Patron/Elder
Lord/Lady
Duke/Duchess
Earl/Countess
Marquess/Marchioness
Viscount/Viscountess
High Priestess/Magi
Baron/Baroness
Prince/Princess
Queen/King
Emperor/Empress
Actions
Find
Retrieve
Destroy/Kill
Steal
Craft
Enchant
Disenchant
Banish
Repair/Heal
Investigate
Deliver
Guard
Nouns
Horse
Wizard
Sage
Hermit
Tomb
Ghost
Shield
Sword
Amulet
Chalice
Staff
Crown
Adjectives
Defiant
Feisty
Gray
Hallowed
Honorable
Dishonorable
Sacred
Noble
Lost
Frosty
Androgynous
Evil
Number
Roll a 1d12
Conditions
Blindness
Deafening
Exhaustion
Frightening
Incapacitation
Invisibility
Paralysis
Petrification
Poisoning
Restraint
Stunning
Unconsciousness